Goal 1: Quilt top finishes
After my last post evaluating the goals from 2022, I have decided on the goals for this year. I am continuing to use my little green book. I am expanding my sewing days into a tiny calendar with specific tasks that are completed listed on the dates. That way I can feel like I am accomplishing more. I am also using a 3 ring notebook to keep track of sew alongs, reorganizing challenges, etc.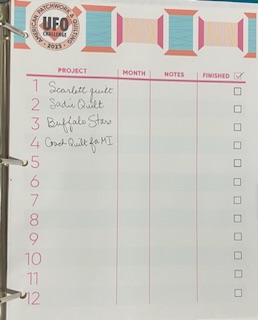 Time to finish up some tops that I have made for people that I love. I printed off a "list" organizer for just this purpose…maybe that will help. This step always seems like work to me.
Goal: Turn a quilt top into a finished product every month…or at least 12 for the year.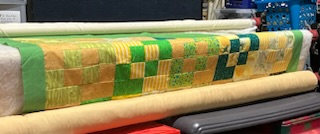 Goal 2: Blog more
Last year I had a goal of 2 blogs a week. Sadly, I did not meet this goal. I would like to write more patterns. I think my blog will help me do just that. By setting this goal so low, I will feel that I have accomplished great things if I write more!
Goal: Publish 1 blog articles a week.
Goal 3: Sew for my own happiness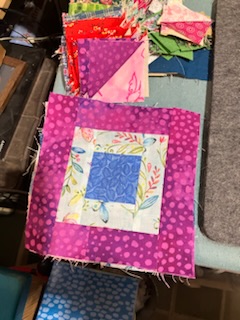 I am keeping the same goal. I did not meet the goal last year, but I was working from January until the end of May, plus cleaning my classroom out getting ready to retire. I think that I can easily meet this goal this year.
Here are my revised list of tasks that I count as sewing:
hand sewing (applique, binding, English paper-piecing)
machine sewing (quilting, piecing)
hand embroidery
machine embroidery
writing patterns
reading patterns and/or quilting related books
ironing/ pressing
cleaning/ organizing my sewing area/room
cutting fabric (Accuquilt or other)
sorting fabric (scraps or other)
Goal: Complete a sewing activity from the above list at least 80% of the days in the year…that is 292 days.
Goal 4: Read to self
I met this goal easily last year. I am not ready to increase it just yet, but I think I can meet it again!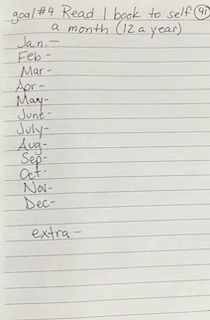 Goal: Read at least one book a month…or 12 books in the year.
Goal 5: Read Aloud
I am keeping this goal. We are currently reading Love and War by John Jakes. This book should keep us busy for quite a while. This is the second book in the series. We usually only read a chapter or two during a read aloud session…15 to 30 minutes a day.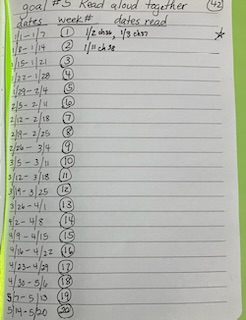 Goal: Read to each other at least 2 days a week.
Accountability
I am going to continue to use my little green book. It is numbered and set up. I also have a small calendar from the dollar tree and a notebook. Writing information down keeps me accountable.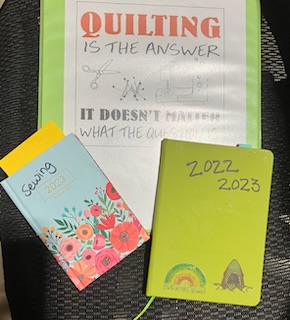 So what do you want to accomplish this year? What habits help you maintain some calm in your life? I love to hear your thoughts!
Later,
Lorrie