I started this sew along to get to know my new daughter-in-law better. We are glad to have her in our lives. She makes our son happy. She also seems to like my sense of humor. I enjoyed hearing stories about her childhood and where she grew up. This quilt gave us topics to talk about and share. She also got to hear stories about our family, too. She didn't run away screaming, so that's a good thing.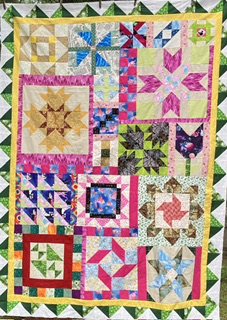 In this quilt, Sweet Childhood Memories, designed by Pat Sloan, each block has a theme. I chose fabrics from my stash to represent the given theme of each block. Here is a detailed look at my fabric choices:
My daughter-in-law's favorite color is green. I used as much green as possible with yellow and pink as accent colors.
Block 1: Fairy Tales
Rumplestiltskin was a favorite childhood story. I used straw fabric for the center and golden threads fabric, too. Straw spun into gold. The pink flames just happens to be the sashing between the blocks.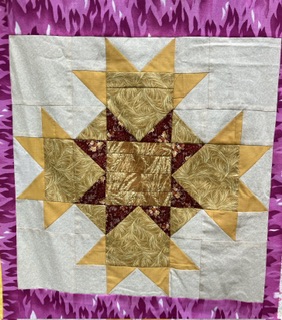 Block: Best Friend
Tracy had a great story about the best friend theme. When she was little…6 or younger…she spent the night at a friend's house. In the middle of the night, they prepared breakfast for her friend's parents. They made toast and raw eggs! She said that she didn't ever remember staying the night with that friend again. Hmmm!
I used egg yolk and toast colors in this block. I had some scraps of fabric that had lace fused on top. I am certain that these scraps came right out of the 1970's!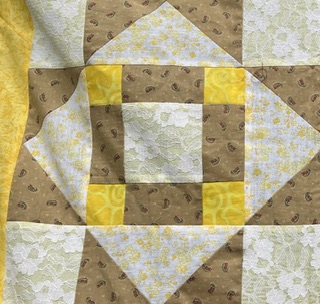 Block: Bedtime Routine
All four of these quilts have newspaper print for the background in this block. Everyone reads or has been read to at bedtime in our family.
The water fabric represents bathtime before bed every night. Bathtime was an important part of bedtime routine at Tracy's house. She remembers playing a game called, "You are a washcloth" with her mom to help her identify items around the room. The center of this block is made with textured fabric to represent the washcloth.
I modified this block with a green sashing because I cut the squares incorrectly for the half square triangles…oops!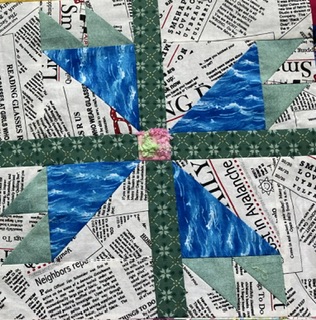 Blocks (from left to right): Easter Sunday, Sing a Song, and Summer Break
Tracy said that one of her favorite Easter things was getting a basket. We talked about egg hunts and coloring eggs, too.
The middle block is for Sing a Song. Tracy loved the Alphabet Song. The small black blocks have the alphabet in print on them. The pig fabric was extra from a previous block…storytime. Tracy introduced me to the story, Perfect the Pig. It is a great story. It is out of print, but you can listen to it here.
Ahhh! Summer! I used colors that reminded me of climbing trees. Tracy had a yard and neighborhood full of great trees to climb.

Block: Ride a Bike
Tracy had a bike that was glittery pink and white. I added the pink flames just for fun!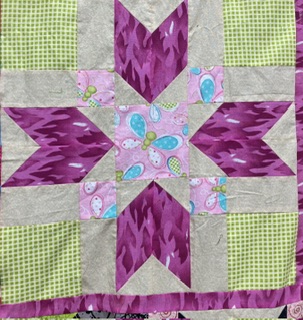 Blocks (from left to right): Books, Favorite Outdoor Game, and Movie Time
Tracy's favorite book was Perfect the Pig. I didn't find that great flying pig fabric until after I made this block. I used sky fabric and butterfly wings to represent the story. Eventhough this story is out of print, she did find a copy for baby.
Freeze Tag was a favorite outdoor game that Tracy played with the other kids in her neighborhood. I used sky fabric to represent the outdoors and snowflakes for freezing.
Tracy loved Cinderella, Snow White…any Disney movie as a little girl. I had some very small scraps of Minnie Mouse…perfect. I used green spider web fabric to represent all the cobwebs that Cinderella cleaned up.

Blocks: Nursery Rhymes on the left, Fun School Memory on the right
Little Miss Muffet sat on a tuffet and had to put up with a lot of spider webs. I have an amazing amount of spider web fabric. I HATE spiders. I know that in crazy quilts they were added for good luck.
The tulip is for a trip to the planetarium. I love this fabric, but never found a use for it…until now!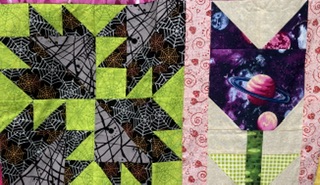 Block: Childhood Home
After I made this block, based on Tracy's description of the house she lived in, she found a picture. Her house was red brick. The yard was full of big trees to climb. There was ivy growing everywhere. I found fabric for all of those elements.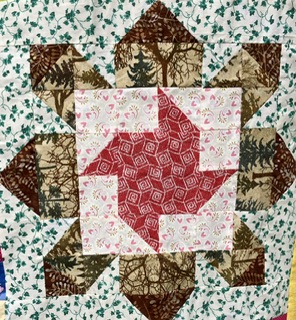 Blocks: Toy Box on the left, and Favorite Teacher on the right
Tracy loved playing with Barbie dolls. I had a great collection of these, too. The dancers in this block remind me of Barbies in elegant gowns and cute shoes.
Tracy's favorite teacher was Mrs. Baney, an English teacher. I used more alphabet fabric…and the great Perfect Pigs.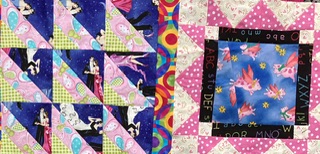 Blocks: Favorite Bedtime Toy on the left, Holiday Memory on the right
Since bathtime was an important part of her bedtime routine, Tracy said that her favorite toy was stacking cups that she played with in the tub. I used colors that represented stacking cups. I also found a set of these at a yardsale that I gifted to her.
The fabrics in the Holiday Memory block represent Easter…lots of bunnies and baskets.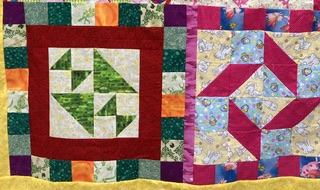 Block: Something You Learned
Tracy's lesson learned was, "Never burn bridges." One of the star points has a bridge on it. You will notice it is not on fire.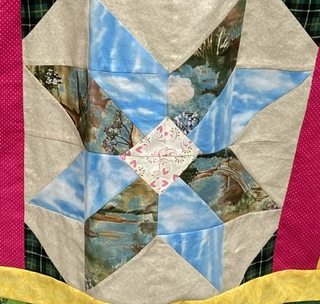 I am happy to assemble another one of these quilts after months of work. Hopefully, the third one will be ready for viewing soon. I hope you enjoyed this quilt narrative.
What have you been working on recently?
Later,
Lorrie