After months of working on four of these quilts at once, the first one is finally assembled into a top! This is our son's version.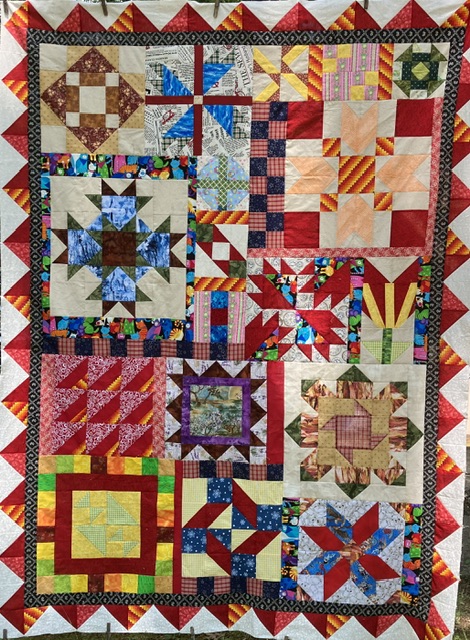 In this quilt, Sweet Childhood Memories, designed by Pat Sloan, each block has a theme. I chose fabrics from my stash to represent the given theme of each block. Here is a detailed look at my fabric choices:
My son's favorite color is red. I used as much red as possible.
Block 1: Fairy Tales
I also included legends and other stories in this fairy tale theme. This block reflects a love for the story of Robinhood. The fabric has a forest theme: browns that look like bark, green leaves, and snowy cold nights.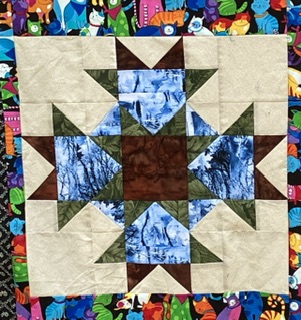 Block: Best Friend
This block is for Henry. Henry makes the best chili con carne in the world. He and Jeremiah also brewed homemade beer at one time. Chili and beer colors are represented in this block.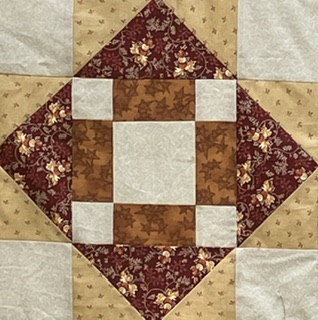 Block: Bedtime Routine
All four of these quilts have newspaper print for the background in this block. Everyone reads or has been read to at bedtime in our family.
The water fabric represents bath time before bed every night in this block. I modified this block with a maroon sashing because I cut the squares incorrectly for the half square triangles…oops!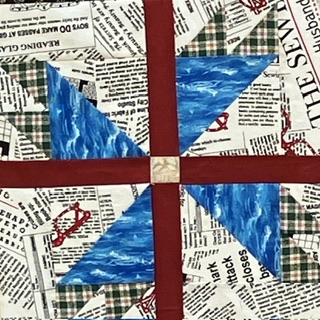 Blocks (from top to bottom): Easter Sunday, Favorite Outdoor Game, and Summer Break
The Easter Bunny was a crazy creature. He one time brought a swing set. Another time he brought a turtle sandbox…represented by the cross fabric. It looked like a turtle shell to me. He loved dyeing eggs. After Easter we always made a big batch of pickled beets and eggs to enjoy…and to use up those hardboiled eggs.
One of our son's favorite outside activities was riding his bike. He also mentioned playing a game that was similar to Lord of the Flies. I don't even want to know.
Ahhh! Summer break was always a great time for our family. As teachers we had time to spend traveling, etc. The red and blue fabric represents favorite popsicle flavors. I used the bullfrog fabric because we used to sing "Jeremiah was a Bullfrog".

Block: Ride a Bike
Jeremiah had two bikes that I remember. The first was a push bike…the kind you push with you feet. He rode that up and down the sidewalk of our little fenced in yard for hours. It was orange and white with some black highlights.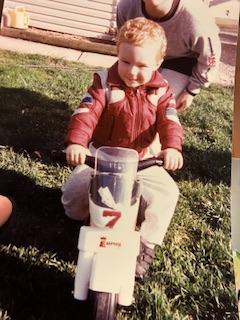 When he graduated to a full size bike, it was red with white pin stripes.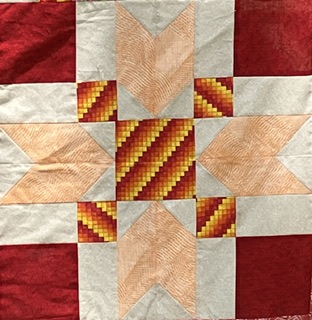 Blocks (from left to right): Books, Sing a Song, and Movie Time
Stinky Cheese Man by Jon Scieszka is a great book. Here is a link where you can listen to this story. The colors in this block represent the fox and cheese.
"Jeremiah was a Bullfrog" was a song that we sang to get our boy ready for school. We didn't want bullies to have an advantage. He also liked "Cats in the Cradle" by Harry Chafin and the "Winnie the Pooh" theme song.
I was not surprised when he chose The Land Before Time and/or Jurassic Park as his favorite movies. He has always loved dinosaurs. The background fabric has dinosaur footprints and skulls.

Blocks: Nursery Rhymes on the left, Fun School Memory on the right
Jeremiah couldn't think of a nursery rhyme that he absolutely loved. He did think about a song: "Cats in the Cradle". Songs are poetry set to music. I love the cat fabric in this block!
The tulip colors represent parachute day in gym class as a favorite school memory.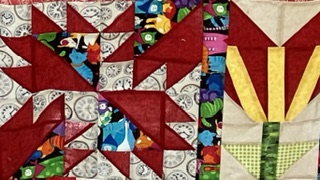 Block: Childhood Home
The house that we lived in had red T111 siding. It looks a lot like a barn. (red fabric) It is a wooded setting. (green leaves) We also used a firepit and fireplace frequently. (red-orange leaves look like flames).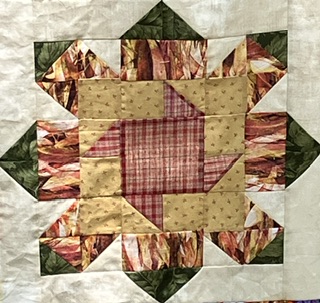 Blocks: Toy Box on the left, and Favorite Teacher on the right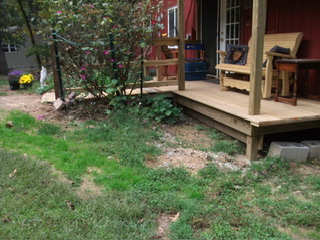 The red blocks were the closest thing in the fabric stash to lego blocks.
Jeremiah's favorite teacher was Lisa Wright as Musselman High School. The fabric was chosen to represent her cultural heritage.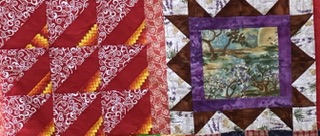 Blocks: Favorite Bedtime Toy on the left, Holiday Memory on the right
Can you see the Gloworm colors in the block on the left?
The fabrics in the Holiday Memory block represent the legos that my son got as Christmas gifts for many consecutive years. Life was easy then!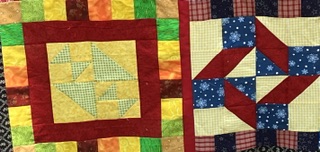 Block: Something You Learned
Jeremiah shocked me when he said: "You were right" can prevent a lot of problems. He is sooooo right, but that is a difficult thing to admit sometimes.
I love the fabrics even though they do not really reflect his answer. The blue fabric has some cool tatoos: eagles, skulls, etc.
We have an ongoing family discussion about toilet paper. Some like it soft like a fuzzy bunny, others of us like it like sandpaper. I had just enough of this fabric to work it in as a background. I found it as I was getting ready to cut this last block.
I am happy to finally assemble one of these quilts after months of work. Hopefully, I will have another one to show you soon! I hope you enjoyed this quilt narrative.
What have you been working on recently?
Later,
Lorrie