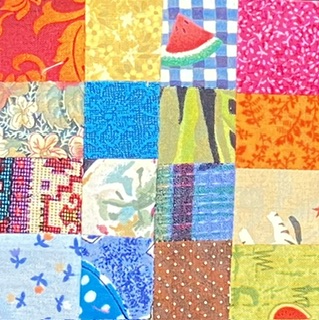 You will need 16 blocks of your choosing for this block. Choose one of the following sizes for the best results: one and a half inch, 2 1/2 inch, 3 1/2 inch or 4 1/2 inch. Block should I have a nice contrast between them.
Lay the blocks out in a 4 x 4 formation like the illustration above.
Sew the blocks in each row together. You will have four rows.
it is now time to press the seams of your block. There are two options. You can press the seams to one side or the other or you can press the seams open. I recommend pressing the seams open even though this seems counterintuitive. It creates a flatter block in the long run. I have never had any problems with weaker seams because of pressing seam allowances open.
Sew the rows together.
Press, the row seams.
Enjoy your block!
Later,
Lorrie