When I started making these childhood memory quilts, my purpose was to get to know our new daughter-in-law, Tracy. I also thought that she might like to get to know us a little better as well. I actually learned some things about my husband as well, which surprised me after being married to him for almost 38 years!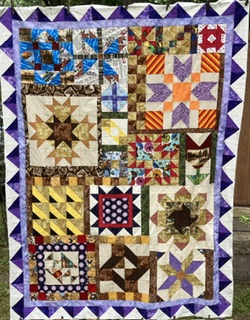 In this quilt, Sweet Childhood Memories, designed by Pat Sloan, each block has a theme. I chose fabrics from my stash to represent the given theme of each block. Here is a detailed look at my fabric choices:
Dan's favorite color is purple, but I also used as much nature fabric as possible. At home and cabin, he likes to feed the deer, turkeys, and squirrels. We have traveled to Yellowstone National Park many times to watch the wildlife, too. He likes to fish with friends and family.
Block: Fairy Tales
This block is based on Dan's favorite stories: Davy Crockett and Daniel Boone. He loved watching Fess Parker as Davy Crockett on Sunday evenings on The Wonderful World of Disney.
The center of this block is a majestic moose. I also used the last of the Alaskan batik fabrics throughout this quilt.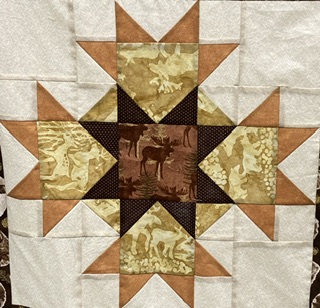 Block: Best Friend
Dan's best friend is also my cousin, Todd. Todd is a great fisherman. The fish seem to know he is around and beg to be caught on his hook! (Dan claims that he has been on trips when there were no fish caught, but I don't know if that is really true.) Dan also hunts with Todd and his family at their fantastic camp. It is a beautiful, peaceful place in the wilds of Pennsylvania.
I used camp and nature fabrics in the corners. I used water fabrics for the background. I had some great fish and fishing panels that I fussy cut for the triangles in this block.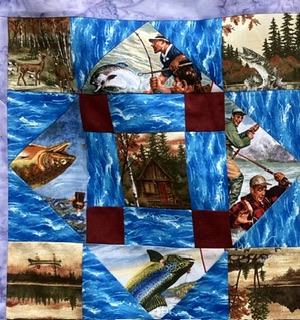 Block: Bedtime Routine
All four of these quilts have newspaper print for the background in this block. Everyone reads or has been read to at bedtime in our family.
Dan didn't remember much of a bedtime routine when he was growing up. He remembers brushing his teeth every night. Everyone uses some water when brushing their teeth.
The striped fabric is green forest with birch trees. It fits the outdoor theme of the overall quilt.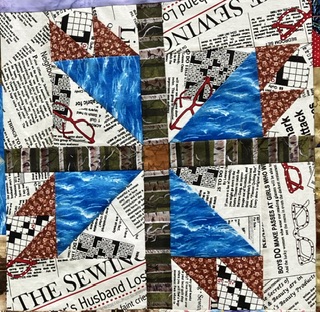 Blocks (from left to right): Easter Sunday, Sing a Song, and Summer Break
Easter Sunday was the time to visit with grandparents. Dan's family colored eggs. The Easter bunny brought a basket with delicious Gardener's chocolates. He usually got a nice peanut butter filled egg…ohhh, yummy!
The middle block is for Sing a Song. De Camptown Races was a favorite song from elementary school. Listen to it hear. The brown fabric represents the dirt race track.
Ahhh! Summer! Dan spent a couple of summers in Canada with his grandparents. He did a lot of fishing for Walleye with his grandfather. The fabrics in this bottom block are mostly about fishing. I snuck a piece of Alaskan batik into the center.

Block: Ride a Bike
Dan used his Uncle Randy's orange and purple bike with tiger handle bars until his grandparents got him his own for Christmas. It was blue-purple with orange highlights, too.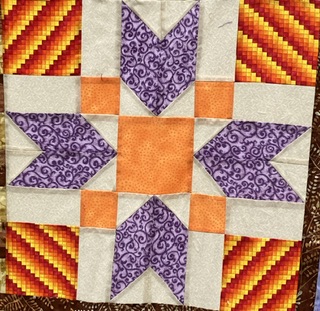 Blocks (from left to right): Books, Favorite Outdoor Game, and Movie Time
Dan's favorite book was loaded with stories. He read the Disney Big Book of stories until it fell apart. We still have this copy, fixed with duct tape, in our library. We also have a copy in perfect shape that we bought at a yardsale. The book cover was red and colorful, so is the block.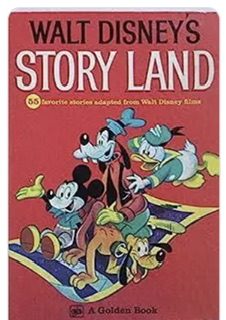 Wiffle ball was a favorite outdoor game for all the kids in the neighborhood. That reminded me of the movie Sandlot, when they play baseball at night under the fireworks.
101 Dalmations, the cartoon version, was a favorite movie. Notice the paw print fabric. Movies were not available on VHS, DVD, or even on TV at that time. It was a special occasion to go to a movie in a theater.

Blocks: Nursery Rhymes on the left, Fun School Memory on the right
Here it is. The nursery rhyme:
Mary had a little lamb,
And when she saw it sicken,
She sent it off to packing town
and now it's labeled chicken.
You will notice the sheep and chicken fabric.
The tulip block is the fun school memories block. At the end of sixth grade, the school district Dan and I attended took students on a week long camping trip to Bald Eagle State Park. His class had a great time. Those poor teachers! By the time my class got there, this trip had been permanently cancelled. I got to go for a day trip…basically a walk in the woods…whoopie.
The flower body was cut from a postcard block. It looks like a camping trip to me.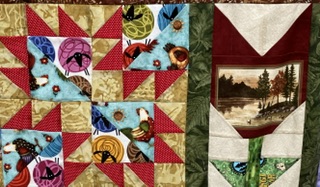 Block: Childhood Home
Dan's childhood home had dark brown siding. It was on the mountain above Port Matilda, Pennsylvania. I loved to go to visit there when we were in college…lots of trees, deer, and peace and quiet.
I snuck in more of the Alaskan batik with the mountain at the top…not the same mountain, but a mountain nonetheless. There are also trees and more earth tones.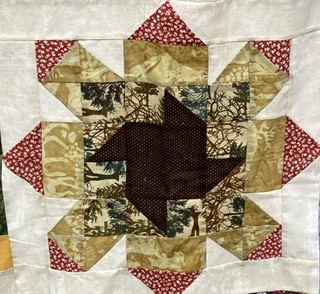 Blocks: Toy Box on the left, and Favorite Teacher on the right
Tonka trucks are used to play in sand and dirt. I used Tonka colors.
Mr. Hoak was Dan's favorite social studies teacher. I used Americana fabrics to represent him in this quilt.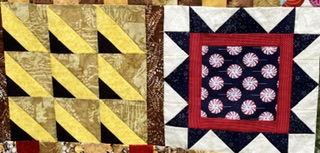 Blocks: Favorite Bedtime Toy on the left, Holiday Memory on the right
On the right, the block represents bedtime "toy". I used mushrooms, castle towers, and balls to represent this. Enough said…you figure it out.
Dan's favorite holiday memories were of hunting after Thanksgiving. I used fabrics that looked like the big woods.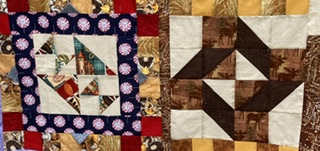 Block: Something You Learned
Dan's lessons from childhood seem to be related to nature and the peace and serenity that can be found there.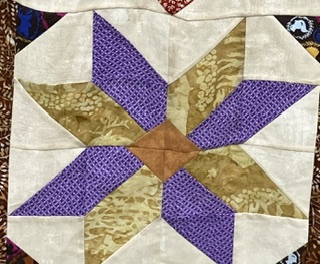 Three quilts down and only my version to go! I hope to have that assembled and ready to show you by next week sometime.
What have you been working on recently?
Later,
Lorrie